Do you have pesky armadillos digging up your lawn or garden?
Say goodbye to these nuisance creatures with an ultrasonic armadillo repeller. Powered by solar energy, this repeller emits high-frequency sounds that repel armadillos and prevents them from entering your property. Additionally, it features a flashing light that further deters these nocturnal animals.
Why Get Rid of Armadillos?
Armadillos dig burrows for shelter and

make cone-shaped holes

searching for food, potentially

damaging everything from vegetable and flower gardens

to lawns and tree roots.
In addition to landscapes, armadillos can sometimes

damage ground-nesting bird habitats, as well as human constructions, such as

driveways and foundations.
They can also

carry diseases

that are harmful to humans and pets, such as leprosy and rabies.
Say Goodbye to the Unwanted Armadillos with Solar Powered Ultrasonic Armadillos Repeller Now!
Protect your home from unwanted armadillos without the use of dangerous and messy chemicals, pesticides, sprays, or traps that can harm you, and your family. No Dead Armadillos!
The ultrasonic armadillo repellents are designed to be user-friendly and do not harm armadillos or any other animals. Coverage Area: 30 feet to 2425 square feet.
Here Are Some of The Features and Benefits of Our Ultrasonic Armadillo Repellent:
Ultrasonic Waves:

The repeller emits high-frequency ultrasonic waves that are inaudible to humans but irritate and deter armadillos. Naturally drives armadillos and other animals out without killing them. No Dead animals!
Flashing Light:

The device also emits a bright flashing light that further scares armadillos and helps to keep them away from your property.
Solar-Powered:

The repeller is powered by a solar panel that charges during the day and works throughout the night, charging itself under the sun, wireless and rechargeable. Don't worry about getting new batteries anymore!
Easy to Install:

Our repeller is easy to install, and you don't need any special skills or tools. Just mount it in a suitable location, and you're good to go.
Effective and Safe:

Our repeller is an effective and safe way to keep armadillos away from your property without harming them or other animals.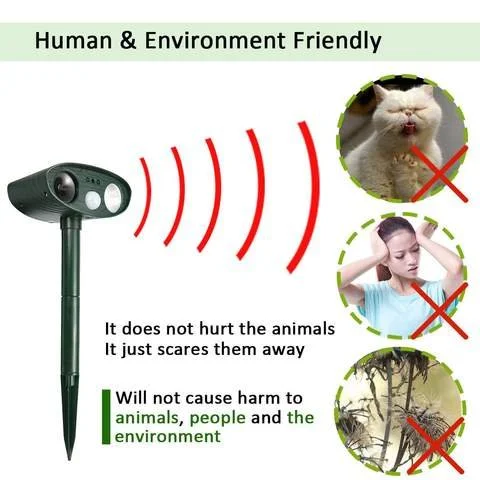 Ultrasonic armadillo repellent provides a humane and effective solution for getting rid of armadillos without harming them, ensuring the safety and beauty of your property.
The solar-powered feature means that you don't need to worry about replacing batteries or running electricity. The ultrasonic armadillo repellent charges during the day and works all day long, providing continuous protection in your garden against armadillos.
Say goodbye to pesky armadillos digging up your lawn, chewing through your garden or bird feeders, and causing property damage. The Ultrasonic Armadillos Repeller is easy to install, requires no maintenance, and runs on solar power. The armadillo repeller is made with durable materials, ensuring it can withstand bad weather conditions.
The Ultrasonic armadillo Repellent is ideal for use in a variety of outdoor spaces, including gardens, lawns, patios, and near bird feeders. With its solar-powered design, you don't need to worry about running out of batteries or constantly charging it. Plus, it's weather-resistant, so it can withstand rain, snow, and other harsh weather conditions.
If you want to get rid of armadillos from your yard or garden, our Ultrasonic Armadillo Repeller is the perfect solution. Order now and enjoy an armadillo-free environment!
How Does The Ultrasonic armadillo Repellent Work?
The Ultrasonic Armadillo Repeller uses improved electromagnetic technology to protect you from unwanted animals and pests. It emits a range of powerful, deep-penetrating ultrasonic sounds to scare away a wide variety of pests and animals. Equipped with an infrared motion sensor, the repeller is activated as soon as an animal is detected.
How to Install And Use:
Peel off the transparent protective coating on the top of the solar panel of the ultrasonic armadillo repeller to ensure it can absorb sunlight efficiently.
Do not cover up the armadillo repellent's PIR sensor and choose a place where the solar panel on the top can get as long-time sunshine as possible.
Install the solar armadillo repeller device in the direction that armadillos come from to get a better effect.
Specifications:
| | |
| --- | --- |
| Product Name: | Solar Powered Ultrasonic Armadillo Repeller |
| Product Type: | Ultrasonic Animal Repellent |
| Material: | ABS Plastic |
| Unit Dimensions: | 15 × 8.5 × 37.5 cm |
| Unit Weight: | 0.3 kg |
| Power Supply: | 4 x 2/3AA Ni-MH rechargeable batteries |
| Power Consumption: | working=150mA standby <10uA |
| Ultrasonic Frequency: | 25-61KHz |
| Coverage Area: | 30 feet @ 1100=2,425 square feet |
One Pack of Package Including:
1 * Ultrasonic Armadillo Repeller
1 * Instruction Manual
3 * Stakes
Get Rid Of Armadillos Easily And Effectively for the Garden.
The Solar-Powered Ultrasonic Armadillo Repellent effectively repels armadillos with ultrasonic waves that are uncomfortable for them, keeping them away from your garden and crops without causing harm. The device is easy to install and operating provides customized protection. The built-in solar panel allows for efficient and cost-effective operation, making it an animal-friendly solution for long-term use.
In conclusion, if you want to protect your property from armadillos, the Ultrasonic armadillo Repeller is an effective, and safe solution. With its ultrasonic waves and flashing light, you can finally say goodbye to these pesky critters and enjoy a peaceful, armadillo-free environment. Order yours today, and experience the difference for yourself!
Notes:
Allow the armadillo's repeller to operate continuously for the best results.
Do not immerse the repeller in water.
Do not cover up the PIR sensor.
To clean the repeller, use a damp soft cloth and mild soap with water. Do not use harsh chemicals or abrasive cleaning agents that may damage the repeller.