The 2-In-1 Device That's A Death Sentence For Mosquitoes
Bug Bulb is designed to deliver an effective 360° anti-mosquito shield that will rid your summer of these annoying pests once and for all. It's compact and portable so you can take it anywhere and the rechargeable battery provides long-lasting protection from flying insects. Bug Bulb doesn't use DEET or any harmful chemicals so it's safe to use around your kids and pets. And it doubles as a convenient reading light at night or as a handy flashlight.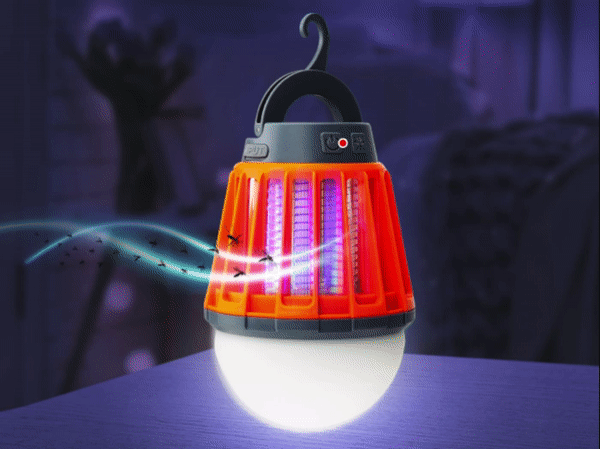 Bug Bulb Has Killer Features For Killing Mosquitoes
Bug Bulb is a futuristic zapper that works to clear your area of mosquitoes fast. Keep your family off the mosquito menu with this best-selling insect killer.
It's A Zapper AND A Light
This powerful mosquito zapper doubles as a multi-purpose light. You can kill mosquitoes AND use it as a flashlight, lantern, or reading light anywhere. The light has three brightness settings and lasts for 20 hours on its lowest setting on a single charge. This dual-functionality makes it the ideal camping or outdoor accessory for any adventure.
Powerful 360° Coverage
Bug Bulb basically looks like a normal lightbulb but with powerful UV-lights that attract mosquitoes to it. It's perfect for literally any activity you don't want mosquitoes to ruin. Bug Bulb delivers 360° zapping power and provides a mosquito-free zone of 16' x 16'.
Long-Lasting Rechargeable Battery
Rest assured that Bug Bulb will deliver all the mosquito-killing power you need. The high-capacity rechargeable battery will last approximately 20 hours in Lantern Mode and around 15 hours in Zapper Mode.
Chemical-Free & Safe To Use
Bug Bulb doesn't contain any toxic, gross-smelling chemicals that are harmful to you, your kids, or your pets! And don't worry about them getting shocked or hurt by Bug Bulb either. This awesome zapper is completely safe to use in any environment.
Handy Hanging Loop
Bug Bulb is designed with a handy hanging loop that makes using it absolutely effortless. It can be easily hung from above, or even from a bag or a bicycle, for maximum effectiveness wherever you are whether you're using the Zapper Mode to kill mosquitoes or the Lantern Mode to see better.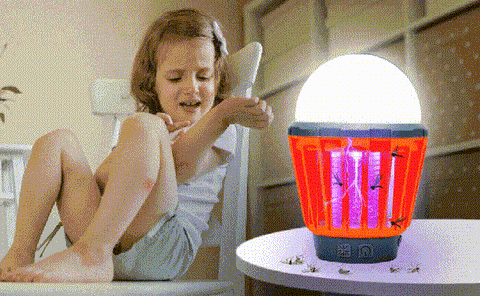 Protection While You Sleep
Bug Bulb is ultra-quiet to run and the long-lasting battery will give you powerful protection all night long. Keep mosquitoes away from you and your family with this best-selling zapper that delivers all the mosquito-killing power you need.
Easy To Clean
Bug Bulb is fast and super easy to clean. Just rinse off the dead debris under your tap and the water-resistant Bug Bulb will be ready to zap more mosquitoes!
Mosquitoes are the #1 annoyance every summer.
They're not just irritating. They can cause havoc with your health! Fortunately, you don't need to worry about mosquitoes anymore.
Just set up a Bug Bulb and let the zapper take care of them!
I turned my son's bedroom (and our entire home) into a mosquito-free oasis. Bug Bulb has even made our weekly barbeques, and yearly camping trips, peaceful and mosquito-free, too.
Specifications
Product size: 88mm x 129mm
Weight: 250g
Mosquito Killing with Full Charge:≧ 15hours
Power Grid Voltage:≈ 1500V( no touching)
UV LED Wavelength: 0.06W/ 360-400mm
Max Luminous Flux of Full Charge with Max/Middle/Min Brightness:180/90/30 Lm
Lighting Time of Full Charge with Max/Middle/Min Brightness:5/10/20 hours
Battery Capacity: 2000mAh/3.7V
Full Charge Time: 2-4 hours
Place position: 1m above the ground, 2m from the human body. Recommended hanging height: 0.8-1.2m
Package Including
1 * Battery Operated Bug Zapper
1 * USB Charging Cable (no adaptor)
1 * User Guide
Grab a Discount - While You Can!
If you took all of Bug Bulb's features and looked for them on different items in the market, you'll find gadgets that cost at least $150.
Yet, Bug Bulb offers all these features, and more, for just a fraction of the price! And RIGHT NOW you can get your own Bug Bulb for 20% OFF.
Frequently Asked Questions
Question: How does Bug Bulb work?
Bug Bulb uses effective UV-lighting to attract mosquitoes, and then an electric coil to kill them!
Question: Does Bug Bulb require a wall outlet for power?
Bug Bulb is powered by a rechargeable battery that uses a USB connection for charging.
Question: I'm not good with gadgets. How easy is Bug Bulb to use?
Super easy! Simply charge it with the USB cord, hang it anywhere with the loop, and you're ready to zap mosquitoes!
Question: What are some tips to get the most out of my Bug Bulb?
Tip #1. For best results, place Bug Bulb in the area you wish to use and leave it operating for at least two hours. This will rid the area of any mosquitoes beforehand.
Tip #2. Because the device relies on the LEDs to lure mosquitoes, minimizing ambient light in the background will give better results. Having too many lights on will be distracting and you may not see the results you want.
Customer Reviews
Here are what our customers say.
Wow you reached the bottom
Most liked
Highest ratings
Lowest ratings
The review would not show in product details on storefront since it does not support to.